Most Likely Winner: Matthew McConaughey
as Ron Woodroof in
Dallas Buyers Club.
Starting to look pretty secure after wins at the SAG and Globes and to be honest he very much deserves it if he does get it. Quality serious acting from Matthew McConaughey, who could see that coming after all the romance-comedy stuff? But he is excellent and completely convincing in a difficult portrayal (as true stories always are). And the weight loss is dramatic as well. Large parts of the movie I can't believe he's so skinny.
Backup Pick: Chiwetel Ejiofor
as Solomon Northup in
12 Years a Slave.
About half the film he doesn't speak at all and the acting is just conveyed by facial expressions. And it's done. With facial expressions alone Ejiofor gives us the look of a man in the trenches with a thousand yard stare occasionally broken by the reluctance to let despair take full control. This film is extremely difficult to watch and that's not least due to the excellent acting.
Most Deserving (My Pick) : Christian Bale
as Irving Rosenfeld in
American Hustle.
Bald and fat, Christian Bale is unrecognizable from the man who was in Batman. One of more devoted method actors around when it comes to weight loss and gains (and probably other aspects too, but that's most noticeable). Rosenfeld's got confidence but nerves and is hostile but also respectful, depending on the company. He's a man of contradictions and is played that way to perfection by Bale.
Most Likely Winner: Cate Blanchett
as Jeanette "Jasmine" Francis in
Blue Jasmine.
The kind of performance that clearly deserves an Oscar. As Jasmine, Blanchett manages to perfectly portray the line of barely-likeable and "we understand you're going through a hard time" to show us a complex character in what could have easily been (and I thought would be) another portrayal of previous rich brought down to real hardship. But it's so much more than that.
Backup Pick: Amy Adams
as Sydney Prosser in
American Hustle.
Loved Amy Adams as Sydney. Person in a film putting on an act, multiple accents; always good. Convincing as a manipulative and self serving character who does what is best for her but also, paradoxically, her relationship with Irving comes across as genuine. Has to be a great performance to pull that off. And her scene with Jennifer Lawrence is a perfect showing (and memorable one) of bad-mind catfight-ness.
Most Deserving (My Pick) :Cate Blanchett as Jeanette "Jasmine" Francis in Blue Jasmine. Jasmine is should be easy to not like but you keep wanting to see more and more of her. That's what Blanchett brings, the performance with parts of humor and sadness to go with the snobbery. Jasmine herself is a bit of a creation, with all her stories and self-delusions and the movie goes into detail of why she is how she is, and Blanchett shows it all excellent.
Most Likely Winner: Jared Leto
as Rayon in
Dallas Buyers Club .
We're a long way away from
My So-Called Life
now. I'd always thought of him more as a musician than an actor because 30 Seconds to Mars is excellent. Won at every major awards show already and seems a lock to win. With good reason too. Doesn't appear in the film till almost 40 minutes but a scene stealer every time he's in the movie.
Backup Pick: Michael Fassbender
as Edwin Epps in
12 Years a Slave
. There's been a trend of villains winning this one and he's the villain in this group. Thing is that doesn't work for him, since the nature of the villainous role in this sort of film isn't going to get a lot of votes. With that being said, this couldn't have been and easy role to play and really takes a lot of dedication to pull this off.
Most Deserving (My Pick): Barkhad Abdi as Abduwali Muse in Captain Phillips. I'm surprised Tom Hanks wasn't nominated for Best Actor for this film. I loved Abdi as Muse in this and he managed to combine badass with self doubt about what he's doing. It is a convincing performance and really notable for the intense psychological war the character is visibly going through with himself and with Hanks. I like cerebral films. And I like action films. This is both. Leto's performance as Rayon might be better in terms of difficulty of playing the role but I'd pick the intensity of Abdi.
Most Likely Winner: Lupita Nyong'o
as Patsey in
12 Years a Slave.
Doesn't say a word until almost 80 minutes in and for the whole movie barely speaks at all and when she does it's only to say some of the lines that stick with you most from the film (perhaps because she says so little they stick?). Her role seems like it could be the backup act but instead her story is enough to completely steal the focus off the main story. Add in that it's her first film and the odds look good.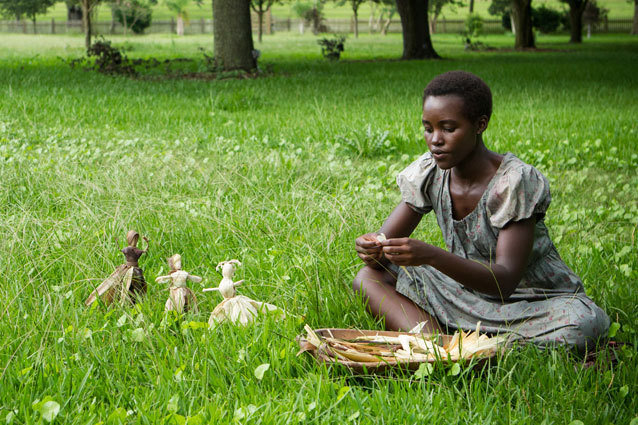 Backup Pick: Jennifer Lawrence as Rosalyn Rosenfeld in American Hustle. Completely enthralling performance as a woman who thinks she always has the right move and right advice (we all know one. And some men too). Completely needy and the definition of passive-aggressive, it's this character more than any other that real pushes the movie forward and sets up the drama. Is there any role Jennifer Lawrence can't do? Action, romance, drama, crime. She's got it all.
Most Deserving (My Pick): Jennifer Lawrence as Rosalyn Rosenfeld in American Hustle. I know Nyong'o is winning everything at the earlier shows and really she's excellent and deserves to, but I'm going to be biased to Jennifer Lawrence because this role is in a crime film with comedy elements and I love those genres. And also because I really like Jennifer Lawrence and think the diversity she has calls for lots of awards.