Brian Lara with 400*, that's the score to beat to have the highest individual score in Test cricket. I'm of the opinion very few batsmen in the game now have the combined ability and mental capacity to bat for the length of time to gain this score. And then even of those who do it is unlikely some will have the opportunity due to weak teams and lack of long innings (always left stranded not out like Chanderpaul). I think a lot of reasons for the lack of potential other quadruple hundred makers are present, even the regularly used one of Test cricket becoming weaker due to T20 cricket and the shortened forms' impact on concentration (I half agree but there's still young Test quality around with batting. It's killing spin bowlers more, I think). Nevertheless, here's a list of the few batsmen with the ability to make at least 401.
England
Alistair Cook

- Personally I think Cook is one of the more likely batsmen to break this on the basis of his batting ability coupled with the fact that he's captain so he can declare when he wants and continue to bat on. Of course his immense ability and technique would help as well and he also should have several years of cricket left in him since he is only twenty-nine. Add in the relative strength of the England batting lineup especially considering the likelihood of batsmen to stay with him to reach 401 (Root and Trott and Bell can stick in there) and it's possible. Had a horrible Ashes, but then, who didn't from England?

Can be done
Kevin Pietersen

- Scores runs quickly, can bat for long and has no fear of any bowler in cricket (remember the reverse sweep six off Murali when he was in prime-spinner mode?). I think the biggest guess on this is how much Pietersen can manage before he loses concentration and gets himself out. On a good day he can, but I doubt his mental ability for several days. Then again he can hit his way to big runs quickly.

maybe, but a wildcard pick really.
Zimbabwe
No possible players from Zimbabwe can manage this, I think, which has as much to do from lack of Test experience after the long break from the longest form of the game than any lack of talent. Brendan Taylor is good but it's a long way down from Andy Flower level.
Chris Gayle

- With two Test triple hundreds he can't be not counted but it's more a case of extended periods of everything in his favour than actually buckling down and aiming for the score to be made. It's possible that he can break the record but it'd take some luck and a few days of bad bowling. Especially considering he's in really bad form.

Close to impossible
Shivnarine Chanderpaul

-The least likely batsman to get out, he will bat on and on until everyone gets out. The problem being everyone usually does and leaves him stranded. He bats very slowly as well, since usually time is an issue when playing for the West Indies, because they're attempting to save the game. Can turn it up very quickly when he wants to (scored the 3rd fastest Test century off 63 balls). Lack of talent or mental ability isn't the case here, it's just that the opportunity is unlikely to arise.

Extremely Unlikely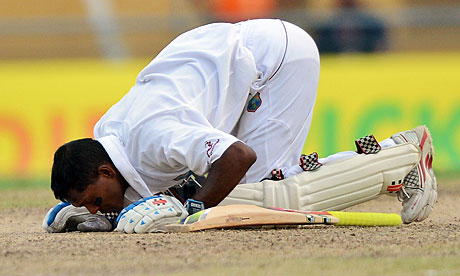 New Zealand
I don't think any players from the Black Caps can make a triple hundred. I doubt any will be making a double hundred except Brendan McCullum and possibly Kane Williamson, who is still young. The Kiwi batsmen still, as they have for ages, make fifties and don't press on to make hundreds.
With all the confusion about home Test matches, it doesn't help with getting a steady run in the side, something that has never been the easiest knowing the volatility of Pakistani selectors. Still, there is possible talent for securing the score although it seems very unlikely.
Younus Khan

- The one Pakistani batsmen who currently has the ability to make very big scores regularly and the technique to face up to any bowling attack. An average of over 50 and runs all over the world means he won't need specific conditions but the major drawback here is the Pakistani lineup and it getting all out on him since that can happen at any moment but maybe Misbah can stick around to get him there.

Don't see it happening
Virender Sehwag

- Same as Gayle he's here because of his two triple hundreds and it'd be hard to leave him out but I feel like his time has passed. Age has dulled the hand-eye coordination and reflexes that made his attacking style able to come off for so long but he does make big centuries usually and possibly the century in December 2012 (his first in tests for 2 years) could be a late rennaisance (he's only 34 anyway), but I think the triple hundred days are behind him.

Missed his chance probably
Cheteshwar Pujara

- Mostly here on pure ability with specific respect to how well he paces an innings and looks like he wants to bat long. A bit heavy on the bottom hand but so is Graeme Smith and even so he very rarely gives the ball air. Scored triple hundreds in first class cricket in India (all his hundreds have been in India, so slight question mark on travelling ability but the highest Test score has been made by a batsman in their home series since Wally Hammond in the 30s made it on tour to New Zealand.) He could go downhill from here, of course, but out of all the young players (under or equal 25) in the world, he's likeliest.

Too early to even put a probability
Despite being in Test cricket for 13 years now, that's still a blip on the learning curve and Bangladesh are minnows of the game. But they possess immense talent and with experience they will be a major force and development has been seen already. Currently though only Mohammed Ashraful or Mushfiqur Rahman have seem likely to make even a double century.
A few years ago this would have been a much longer list but the team's in a transition period. There's quality around though. Always is with Australia
Michael Clarke

- Currently the best batsman by far for Australia the major holdback is that Australia don't bat for very long innings with big runs ( they've fallen a long way), though the last Ashes could be signs of an upswing. Also, he's the most aggressive captain in cricket right now. Very unlikely that he'd sacrifice a win for a huge score. That being said he obviously has the ability and when teams are used to losing even a draw looks good (like Lara when he made the 400*, though he was still chasing a win in that game). Natural attacking instincts for a win override the need to chase
This is the most likely, I think, because Sangakkara and Jayawardene both have the ability and temperament also bat together regular (they have the highest test partnership of 674) and will probably play on batsman friendly pitches (of Sri Lanka) more regularly than other players.
Kumar Sangakkara

- Had a horror series against Pakistan but still one of the best batsmen in world cricket. He can bat long and make big runs, has all the shots and the ability to up the tempo and the technique to deal with really any type of bowling (he would have excellent practice in the nets after facing Muralitharan and Malinga to deal with the highest quality). At his age I'd say he'd have done it already but you can't count him out.
Mahela Jayawardene

- Really anything I had written above could be applicable to Mahela. Not in good form really at the moment but he has long periods of bad form followed by spells of huge runs. Age is not on his side but he has made 374 before and really if he and Sangakarra buckle down in a nothing test during an already won series on a lifeless pitch, either of them can.

Still has it but aging quickly.
South Africa
Possibly the next most likely after the Sri Lankan pair to break the record or even equally likely. South Africa don't even usually bat that long because they can fold up sides quite easily but each of these players can bat for long periods easily and as seen recently they can chase huge totals (almost the highest run chase of all time) so if they can bat deep chasing, setting should be easier.
AB de Villiers-

Bats deep. Best batsman in the world right now and also the captain of the ODI side. Most of the players on this list are or have been captains of their side and I have no idea why that is. Maybe the ones who stick around and are good get offered the post. Can bat very quick but it's usually proper cricket shots. A bit of a question of how long he can stay for but he has made 278* already. Without Kallis anymore he may bat higher in the order which should work in his favour. Currently it's always a surprise when he gets out and he has the ability and form, right now. Keeping wicket might take the energy out, but in a first innings, he very well could
Hashim Amla

- A special talent. A run-getter like no other but every bit a proper cricket player. He only has 8 sixes in Test cricket (19 in ODIs) and yet has a strike rate of over 50. He can bat properly taking singles, hitting the bad balls and almost never throws away his wicket. Has a top score of 311* and looks likely to top that at some point. And he does have an excellent beard, so bias. Still only thirty so really when the Sri Lankans retire he's the most likely candidate. The man to do it