The long-squad has been
release
d! I'll be looking at issues with it.
http://www.dfb.de/news/de/d-fifa-wm/loew-nominiert-30-spieler-fuer-erweiterten-wm-kader/58046.html
The Centre Back pairing
It is no great secret that Germany have defensive frailty (a very un-German trait on the football field, historically). The centre back pairing of Hummels and Mertesacker would mean a lack of pace through the centre and would badly expose "Mr.Clean" Mertesacker who plays best when mopping up when paired with a quick partner or behind a hard working defensive midfielder. In that respect, much is the same as four years ago if Khedira and Schweinstiger start at the base of the midfield, and Hummels is possibly an upgrade on an ageing Arne Friedrich. But, Mertesacker is not as good as he was back then and has endured some tough years at Arsenal where he has not been in the best of form. And expecting Khedira to be at 2010 levels after almost an entire season out (since he's the chaser in that midfield double pivot) would be a misplaced hope.
Hummels and Mertersacker
Hummels so far has never looked comfortable in a German shirt and his club form, which it was hoped he could bring to the international arena has (predictably, since it really was peak form) fallen over the last year. Benedikt Höwedes has been good for Schalke and has about as much experience as Hummels but is much quicker, though has less of a positional sense than the Dortmund man. A question whether Löw prefers to use greater physical qualities or mental ones, perhaps.
H
öwedes on the ball
Jerome Boateng has been good in the Bundesliga for Bayern but, crucially, does make about one mistake a game. Over the course of a season, these things even out, especially as he usually recovers the situation (or someone else does). But World Cup runs can turn on one moment (they usually do) and to have an accident prone defender starting would mean that there's always potentially one bad minute that can ruin the good 89 others (the loss to Spain in the last semi-final was 1-0, where no one marked Puyol at a corner).
Boateng defending against Cristiano Ronaldo (WC10)
Shodkran Mustafi is very good and very capable and probably without him the Sampdoria team would be in a relegation fight. But he's also quite young and lacks any international experience. Probably would be good experience to go to the World Cup but I don't believe that there are extra places for him just so he can get some squad familiarity.
Mustafi for Sampdoria
2. The Left Back position
While Phillip Lahm probably has the right back position locked up (or left back. Or centre midfield. The man can play anywhere), the other flank is less secure.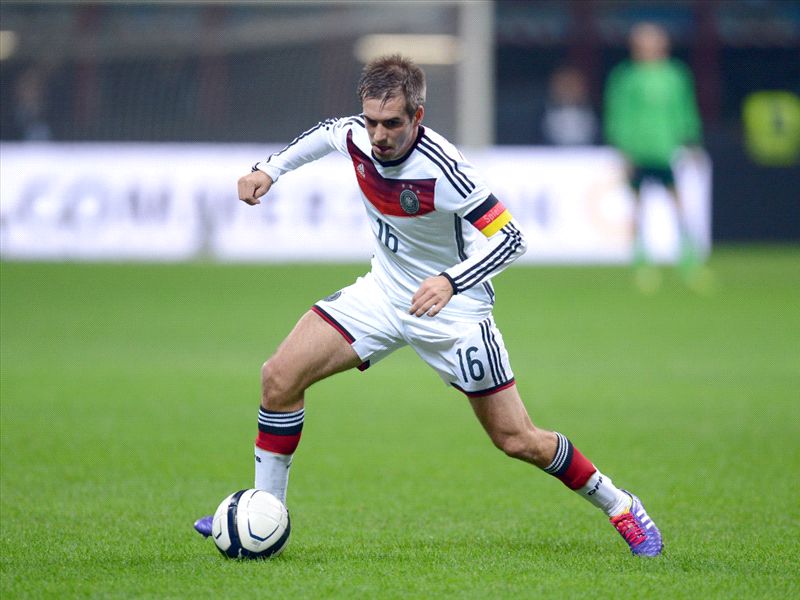 German Captain, Phillip Lahm
The defenders for Germany are quite multi-positional and the only outright left back is Marcel Schmelzer who has struggled with injuries this season and found his way back into the team blocked by

Kevin Großkreutz, who is also in the German squad.

Großkreutz is having an excellent season at fullback after being out on the wing previously for his entire career. Erik Durm, another Dortmund product, is also a winger who played fullback excellently all season. These three players have the same failing that most modern fullbacks seem to have (especially the last two, who can't truly rein in their winger's intent) i.e. they sometimes run up to attack and don't get back in time. Generally, that the biggest problem over a season because things even out and anyway attack is the focus. But not in tournaments. It's defense that usually wins tournaments (unless it's Brazil, but they're a special case of special footballers). Minor defensive lapses such as delayed running back will become major ones over the space of a tournament.
Schmelzer and

Großkreutz for Dortmund
Marcell Jansen of Hamburg is also a multipositional winger/fullback who tends to not track back (see a trend. Unlike the Dortmund trio he is not in very good but a point in his favour is his experience, having played in two World Cups before (he scored in the third place game in South Africa). That being said, experience alone shouldn't be a reason to stay on the squad. He might be one of the defenders to not make it as it seems he and Durm are fighting it out for a ticket to Salvador.
Before I address the main midfielders, Matthias Ginter is both a centre-back and a defensive midfielder and probably won't be going to the World Cup but is, as it stands, the fourth defensive midfielder in the squad of thirty (or fifth, counting Lahm) which speaks about the depth at that position.
The main problem, as I mentioned earlier, with Sami Khedira is his lack of playing time. He could yet be coming to Brazil a Champions League winner but he's played almost no part in Real Madrid's season. This lack of playing time and form could be crucial as Schweinsteiger isn't really in the kind of form he was a year ago. Lars Bender is the only one of the Bender twins to make the cut (somewhat surprisingly both weren't picked, but injury has robbed Sven of crucial playing time) and is a natural ball-winner but somewhat inexperienced.
Defensive midfield is probably one of the most critical positions on the field and with Germany's current defensive line either accident-prone or lacking pace, depending on who gets selected this position is crucial so that as few balls as possible even reach the defence. Khedira and Schweinstiger are a good combination and the question is of form and fitness rather than personnel. Really, the worries over this position are just because the defence isn't likely to handle being regularly tested.
Khedira and Schweinstieger during WC10
Leon Goretzka is in the squad and plays deep in the midfield, more in the deep playmaker role than outright ball-winner/destroyer and most likely are there just for a taste of time with the first team and setting him up for the future. I think ultimately he won't be going and really he won't address the midfield problem of protecting the defence capably.
4. Midfield attacking Form (minor concern)
Honestly, this is the one area where Germany have a wealth of talent.
André Schürrle
and Lukas Podolski, both playing in London are both probably playing for the same starting spot but they both might bench behind Marco Reus. At attacking midfield
Özil
should start with Bayern duo Toni Kroos (who sometimes plays defensive midfield but not with any great regularity and shouldn't do so in the biggest tournament in the world) and Mario
Götze (who can also play on the wing or at false 9, which seems to be a likelihood, at least sometimes as a tactic judging by the lack of strikers) fighting for that backup role.
Reus, Gotze, Ozil
All the German attacking midfield has the ability to play several positions and most are good on the wing as well as in the hole at 10, none more so than the Golden Boot winner in South Africa ,
Thomas Müller. He has no competition for a starting place and seems pretty much a lock to be in the first XI, especially as he is in excellent form.
Thomas Muller in action
Excellent form has been eluding the other attacking players as Podolski,
Götze,
Özil ,
Schürrle and Kroos have all had stop and start seasons playing from the bench due to rotations and injury (as indeed has
Müller, but his form is better).
Özil in particularly looked quite worn earlier in the year and Podolski has been far from his best (but he didn't look good going into World Cup 2010 either and played quite well).
Schürrle, however, will be raring for a chance and looks good every time he comes off Chelsea's bench and
Götze too has managed to impress of the bench.
Schurrle replaces Podolski
Hahn was one of the top players all season for Augsburg and along with Max Meyer of Schalke are the uncapped players who are in the squad as a look ahead to the future. I can't see then going to the World Cup. Even Julian Draxler, who was in the larger squad prior to be cut for Euro 2012 has a bit of a struggle to make it on the plane to Brazil (he should) but seems unlikely to get any regular minutes.
5. (Lack of) Strikers
Kevin Volland really seems the most likely of any uncapped player to make the squad as only he and Miroslav Klose are the outright strikers named in the side. He scores as well as creates which probably is why he was included. But there remain question marks as to whether he really can make a difference in big games.
Kevin Volland on the ball for Hoffenheim
Miroslav Klose has no such questions surrounding him as he has made the difference many times before for Germany and the 2006 Golden Boot winner is probably very eager to score twice to break Ronaldo's record for most World Cup goals. The only thing is, he's 36 years old by the time World Cup rolls around and over-reliance on him might be a problem especially as asking him to play 90 minutes in the punishing heat of Brazilian summer (Germany's group games are pretty much in the hottest part of the country) would be an idea with quickly diminishing returns. While Klose surely has willing spirit (spurred on by the idea of becomin the outright German all-time leading scorer, a record he shares currently with
Gerd Müller), it is a question of if his body can manage.
Klose with his usual celebration during WC10
6. Formation
With two strikers in the entire 30 man extended squad it's fairly obviously that Germany will at least sometimes be playing a striker-less formation, probably with a false nine and lots of midfield switching. I know that, so I'm fairly certain everyone else knows that too. Especially the other national team coaches. It is a good system for a team with midfield quality like the German's boast but the lack of surprise factor can allow teams to defend against it and try to force a goal on the counterattack. Generally this system works best with lots of possession and a lot of pressing to win back possession. Which can burn players out after a long season. Especially in the heat of Brazil. Having a plan is fine but being too obvious about it could cause the plan to be mostly ineffective and at worst, a liability.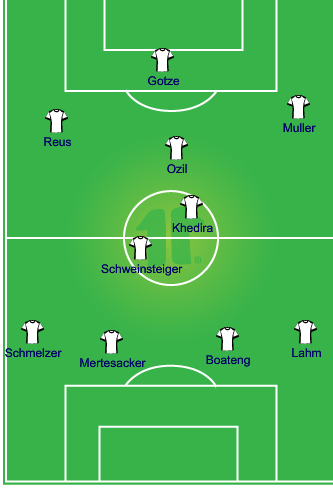 A world cup possibility?
Germany have traditionally been good at defending, run till the end and never give up. They also don't lose penalty shootouts. This new German team is stylish and entertaining as no German team has ever been before which has won a lot of admirers. But not trophies. Make no mistake about it, the German public wants see a champion team more than a stylish one.
7. The Coach and the Attitude
Joachim L

öw has done a lot for the national team in his eight years in charge and has been in the national team set-up for ten years now (two years as assistant coach under

Jürgen Klinsmann). Most of his changes have been tactical as well as style induced and he has been credited with making Germany a very pleasing to watch team. He also focuses heavily on youth and judging from the players' interviews is an excellent man-manager.
Coach Joachim Loew
But, and this is crucial, he is not a winner. In every major tournament he has been in charge of Germany have looked good but fallen short of the trophy (usually in the semi-finals). While all of this cannot be his fault, Germany recently have seemed worryingly akin to Arsenal in the sense that they play excellent football and have a philosophy to execute, but don't win. Further comparisons are easy to make by the fact that Arsenal also played heavily defensive, quite dull football for many years when they were a trophy-winning side (only the early 2000s did Arsenal ever win trophies playing good looking football and they seem stuck on that time) as did Germany since the 1950s.
His philosophy is solid but Germans cannot think their way to a trophy nor can they get there on technical ability only. This German team sometimes seems to have had the desire to win less than present. Not that the team isn't trying but they're some way short of putting everything in to win and having an attitude that refuses defeat. This isn't a team that, if given a penalty in a final, you'd expect to have someone in the mould of Brietner or Brehme coming up to confidently take it. It isn't a team you expect to win it in the 89th minute like Germany won Euro 1980. There are doubts about the team's ability to win tough games where they can't blast away the opponent.
Brehme scores. Germany win the final 1-0
Regularly a strength (some would say the decisive advantage) of a German team has been leadership.
Lothar Matthäus, Franz Beckenbauer , Fritz Walter are all names of World Cup winning captains who are legends practically to the point of reverence and who were, in their contrasting styles, the kind of leaders who could make a team more than the sum of their parts. It would be a huge boost if Phillip Lahm becomes that kind of captain.
Captain Franz Beckenbauer holding up the World Cup Trophy in 1974
Too regularly has the excuse of being a young team building up to the trophy been used and really there should be no excuse of the same nature this team. There are many flaws that should have been addressed and next month, we'll see how successfully they have been in addressing them.