I like World Cup, quite a lot, and think it's the best of all the tournaments that exist in football and very possibly in all of sport (at least for any tournament focused on one sport since the Olympics is amazing because of the variety). So I'll be trying to figure out how likely each team is to get out of the group stages and how far they'll probably go if they do. All the odds are from
www.bet365.com
which is the site I use most for trend spotting in sport (it's like my sport-Bloomberg).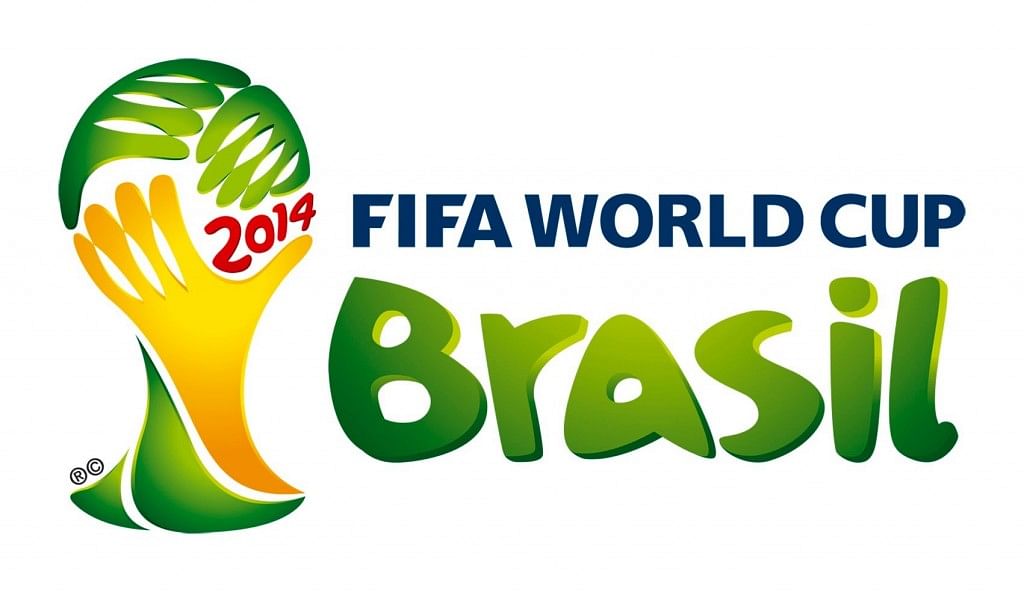 Group C
Colombia - The injury of Falcao has reduced Colombia from being able to potentially match any team in the world (by outscoring them while conceding a lot of goals probably. The defence isn't the best) to being another team teams would rather avoid but no longer fear. Even though he's expected to go to the World Cup, he's not fully fit and well short of any match experience. Many of Colombia's players are playing in Europe and should have experience at the higher levels of club football, but Colombia hasn't been to a World Cup since 1998 (a tournament Faryd Mondragon, who is in the expanded squad of thirty, played in) so they may be a bit short of experience at the highest level. But they did reach the quarter finals of the last Copa America and perhaps that experience may be useful.
Falcao, after surgery
Ranked 4th in the world at the time of the draw, they have since retained that ranking but it has always looked likely to be an overstatement of the team to believe they are the fourth best of any nation currently. Group C, however, looks very favourable and Colombia's seeding due to that high ranking has given them an opportunity not just to make it to the Round of 16 ( excellent odds of 1/5) but also win the entire group, which bookmakers have odds of 4/5 to occur.
Winning the group won't mean an easy passage into the quarter finals as Group D runner's up will most likely be 2012 Euro finalists Italy, current Copa America champions Uruguay or England. They are given odds of 33/1 to win the entire tournament, which seems much too high for a speculative bet.
Greece - Managed to easily come through the UEFA playoffs, somewhat surprisingly, since Romania are a tough side to break down. They have a side with a mix of experience and youth and many players from World Cup 2010 are likely to be going to Brazil already. The captain Giorgos Karagounis was a part of Greece's Euro triumph 10 years ago and will probably be filling the team with stories and inspiration from that tournament.
Karagounis holding the Euro trophy in 2004
Greece have gotten lucky to be placed in a group which gives them a decent, though not simple, chance at qualification for the second round. They have the outside bet of the group at 9/4 and will face tough games but the kind of tough games between two teams on fairly even strengths not matches where they are outright underdogs. At 300/1 to win the whole thing, Greece have the same odds as South Korea.
Greek players celebrate scoring against Romania
Ivory Coast - Les Elephants will have let out a huge sigh of relief after the draw. In their third appearance ever at the World Cup (and third in a row), the Ivory Coast finally have a realistic chance of exiting the group stages. They gave a good account of themselves in 2006, in a group containing Netherlands and Argentina and finished with 3 points. In 2010 they managed 4 points, in a group containing Portugal and Brazil, managing a commendable 0-0 draw against Portugal. This time they'll probably be hoping to continue increasing their points total.


Highest ranked of all the African nations at 21st in the world, the Ivory Coast have a squad of veterans and youth, which is usually thought to be the best mix. Several players have World Cup experience and most of the players who are likely to be called up play in Europe. While the star player is Yaya Toure, who possesses a mix of power, speed and skill currently unmatched in football, ably supported by an older but still lethal Didier Drobga, this Ivory Coast team seems more about the team than focused on any individual players needing to take them through.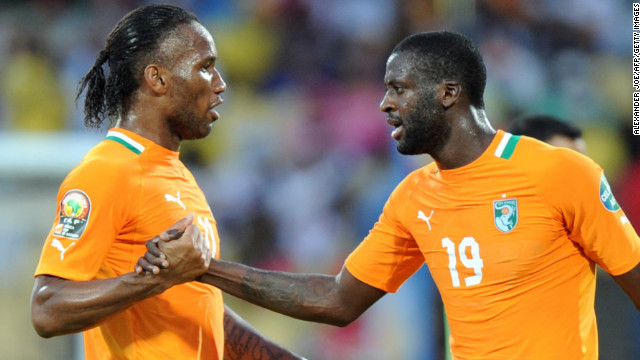 Ivory Coast players Drogba and Yaya Toure
Qualified rather easily by beating Senegal 4-2 and shouldn't be unduly worried by any team in the group, though they won't be extremely confident of a win either. At 10/11 to make it to the knockout phases, they just fractionally make the second best odds ahead of Japan but the fact that both teams are 9/4 to finish bottom of the group should indicate how close the group is. At 125/1 to win the World Cup, it might not be the best bet considering also at 125/1 are Ecuador. But should be a more sensible bet than 100/1 on Mexico. If they make it out of the group, Ivory Coast probably have the firepower to take out England in the Round of Sixteen and possibly even match up against Italy.
Ivory Coast players celebrate their first leg win against Senegal in the WC qualifiers
Japan- The first nation to qualify for the World Cup, all the way back in June 2013. Having never made it to the World Cup before 1998, Samurai Blue have been to every World Cup since. Knocked out on penalty kicks at the last edition, they'll be hoping to at least make it that far and possibly cause an upset or two.
Japan celebrating their qualification for the World Cup
Japan has always had very good, very technically gifted players but have been accused (usually correctly) of not having the imagination or "genius spark" necessary to really change a game. In Shinji Kagawa and Keisuke Honda, they could claim to now have those players, but recent club form of them both is a cause for concern on their impact. A host of players in the squad play in Germany with the rest playing in Italy, England and Japan but there isn't a lot of players with South American experience and perhaps the conditions might be tough going, though usually Japanese players are known for their high work rate (re: Nagatomo, Uchida, Hasebe).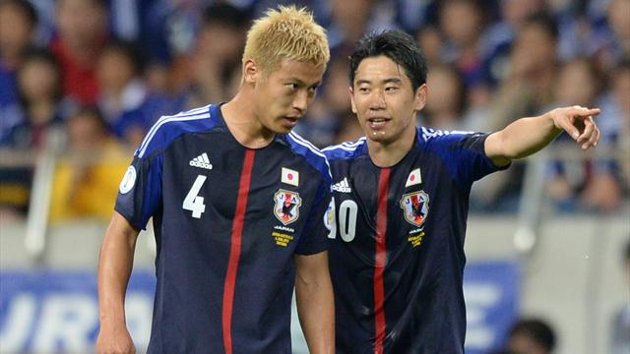 Kagawa and Honda for Japan
Given 1/1 odds to progress from the group stages, Japan have about a good chance as anyone in this group of playing in the knockout phases. Their 150/1 chances of winning the entire tournament seem accurate though since they, unlike Ivory Coast, do not have the firepower to take out England and don't have the creativity to beat Italy.
Group D
Uruguay- Seeded team Uruguay had to struggle to get to the World Cup, coming fifth in COMNEBOL qualifying (albeit on goal difference) and had to go through the playoffs where they're thrashed Jordan 5-0.
Uruguay players celebrating their win over Jordan
Despite the slips during qualification, the Copa America holders are seen as one of the strongest teams in the tournament and a repeat of last time where they went to the semi-final (and really gave Holland a fight) would not be surprising. A squad of mostly the same players that went to South Africa with a front trio of Diego Forlan (Golden Ball winner at the World Cup ), Luis Suarez (English Premier League Player of the Season) and Edinson Cavani (record signing in French football at 64 million Euros) will not be easy to beat, especially to stop them from scoring.
Attacking trio- Cavani, Suarez, Forlan
Seen by the bookmakers as second favourite to qualify at 4/9 , somewhat surprisingly behind Italy but both teams are given the same odds of 13/8 to top the group meaning it's not a straightforward thing to even predict who seem to be favourites in this tough group. Tellingly, Uruguay are given lowest odds of finishing bottom of the group at 14/1. At 25/1 to win the whole thing, behind Belgium and France, this is probably one of the best undervalued odds to speculate on.
Italy - A lot to prove after the horrible showing four years ago where, as defending champions, they failed to win a single game and finished bottom of a group containing New Zealand and Slovakia. If that group seemed straightforward, this one is anything but.
Italy captain Fabio Cannavaro in 2006 after winning the tournament
Italy captain Fabio Cannavaro in World Cup 2010 after group stage elimination
This Italy team has been extensively rebuilt from the last World Cup and during that time managed to reach the final of Euro 2012 where they lost (comprehensively) to Spain. The four-time World Cup winners are known for their strong defence termed the catenaccio, named after the Italian word for door-bolt, since they "locked up" the entire back line. This team follows in that tradition with Juventus trio (another Italian tradition of being Juventus-heavy) of Bonnuci, Barzagli and Chiellini all in dominant defensive form. In Mario Balotelli and Marco Verratti, the Azzurri have real game changers though coaxing the best out of them and getting them to behave is another matter altogether.
Bonnuci, Barzagli and Chiellini for Juventus
They are, somewhat surprisingly given the best odds in the group to qualify at 2/5 but as mentioned before they're given the same odds as Uruguay to top the group. Should have an easy team to face in the Round of 16, in theory, whether they top the group or not and 25/1 to win the tournament, they are probably a wiser bet than the Belgians who are 14/1.
Balotelli and Verratti training for Italy
England - The English media are so far not hyping the team as much as they usually do before large tournaments and perhaps for once the team isn't carrying far more overbearing expectations than they should. The team won their UEFA group easily to secure automatic qualification while only conceding four goals through the entire thing. However the 1966 World Cup winners are far from sure of making it to the knockout phases of the tournament and that's not even taking into account the notoriously bad form of England in tournaments over the last two decades or so, since they have not reached a semi-final of a major tournament since Euro 1996.
At the last World Cup, England played quite poorly and unfortunately for them this squad seems, on paper anyway, a worse one defensively than the one they carried to South Africa. Gary Cahill is perhaps the only defender who can claim to be in good form (though Luke Shaw and Glen Johnson are playing well at fullback, their contributions tend to be offensive). The English attack gives more to be optimistic about with Liverpool duo Raheem Sterling and Daniel Sturridge coming off the back of excellent seasons as do Southampton pair Rickie Lambert and Adam Lallana.
Sturridge and Sterling for Liverpool
Given odds of 8/13 to qualify and 9/4 to win the entire group, England are seen as less likely than both Uruguay and Italy to be playing any football after the 24th of June in Brazil and probably with good reason as this English team is no more than a decent team on paper and will need very strong leadership (which can perhaps be provided by Gerrard, or more likely, not provided) to be more than the sum of their parts. At 30/1, The Three Lions are probably a bit overpriced for a casual bet.
Costa Rica - Finished second in CONCACAF, to everyone's surprise, since anyone but Mexico and USA being top two is rarely considered (even though for World Cup 2002 Costa Rice topped qualifying, but football memory around here forgot that exception). Their reward for qualifying so well was this group, which all but seals a short trip to Brazil for them. Costa Rica are not really able to claim to be among the better half of the teams of the tournament and to make it to further stages would have required to be lucky in the draw as well as on the field. They'll have to hope for some major upsets to be playing knockout football
At 50/1 they easily have the lowest odds of any team to win their group, even lower than the 33/1 given to Australia, Iran and Honduras. Given 9/1 odds to make it out of the group and 2500/1 odds to win the tournament outright, which are the lowest of the entire tournament, this bet is perhaps only for those who have money to waste.