I like World Cup, quite a lot, and think it's the best of all the tournaments that exist in football and very possibly in all of sport (at least for any tournament focused on one sport since the Olympics is amazing because of the variety). So I'll be trying to figure out how likely each team is to get out of the group stages and how far they'll probably go if they do. All the odds are from
www.bet365.com
which is the site I use most for trend spotting in sport (it's like my sport-Bloomberg).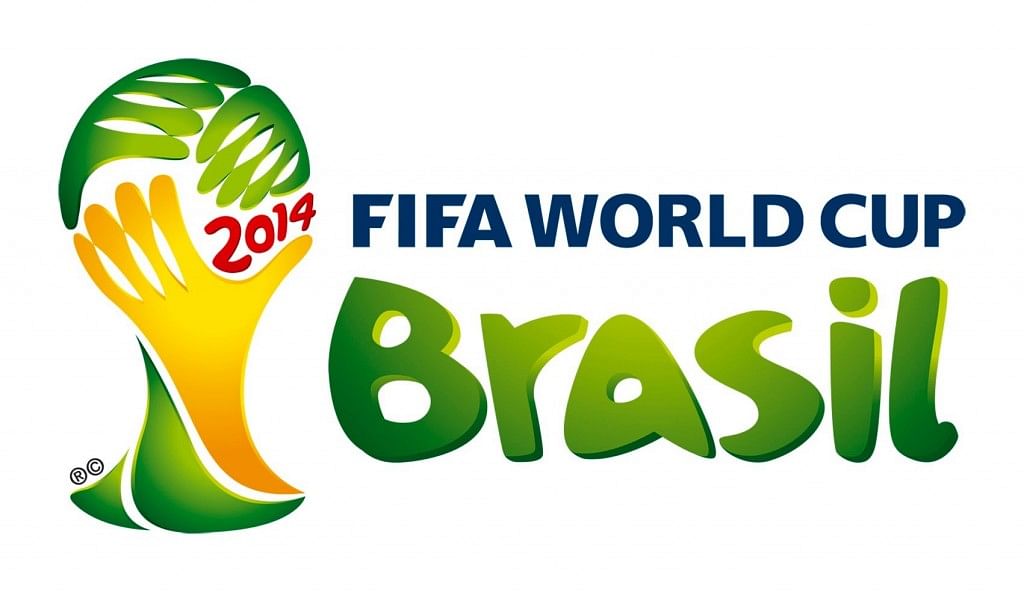 Group E
Switzerland - The fact that Fifa rankings have somehow allowed Switzerland to be a seeded team and really that in itself should say how much the Fifa rankings formula needs to be adjusted, though the Elo system is also far from flawless. The Swiss are a team no one would mind facing at all and though strong do not have the intimidation factor of other top (and not top) ranked teams.
They did finish strongly in their group and qualified automatically and their top ranking has given them a very good chance of making it out of the group stage. They did start the last World Cup on a high, beating eventual champions Spain 1-0 but failed to progress to the knockout rounds with indifferent performances in their next two games. They were even more unlucky in 2006 to be knocked out in the Round of 16 without even conceding a goal, but could not progress on penalty kicks against Ukraine.
The Swiss during their final World Cup 2006 match
Hard to identify and outright star, Switzerland are probably the best example of a good team full of good players but no exceptional ones (maybe a case for Xhaka and Shaqiri). This might be a team of consistency and very little deviation from a 7/10 performance every time they play but unlikely to every play good enough to win highly motivated teams. They do, however, defend exceptionally and any team that concedes early to them will struggle to score twice.
Former Basel and current Swiss stars, Shaqiri and Xhaka
Given odds of 4/6 to qualify for the knockout rounds, the Swiss are third favourites to progress and odds of 11/4 to top the group making them the only seeded team to not be at least joint favourites to finish top. At 100/1 odds, the Swiss chances seem to be correctly evaluated by the bookmakers.
Ecuador - Like, Switzerland, Ecuador are a team that are tough to break down and play very well on the counterattack. While Antonio Valencia of Manchester United could be considered to be the star, the team really is more of a unit that play well together and really rely very little on individual brilliance as opposed to the collective progress, with the team banding even closer after the death of National player Chucho Benitez last year.
Antonio Valencia, with his tattoo tribute to Chucho
They do have have extensive tournament experience and this is only the third time they have qualified for the World Cup, though COMNEBOL is probably the hardest region of any to gain a World Cup place via. However, their Copa America performances have usually been quite poor and they have not made it further than the first round in that tournament since 1997.
Last time they were at the World Cup, however, they performed well and made it to the Round of Sixteen where there were knocked out by England, in Stuttgart. That and perhaps the fact that they're playing on their own continent have La Tri at 4/1 odds to win the group and 10/11 odds to qualify. At 125/1 to win the entire thing, they probably won't make that but if they top the group (which is far from impossible) then they have quite a good chance of making it to the quarter finals against the runners up of Group F, provided Argentina wins their group.
Antonio Valencia with the ball against England in the Round of 16 during WC2006
France - Showed tremendous team spirit to qualify for the World Cup and come back from 2-0 down again Ukraine by winning 3-0 in the second leg. Not just the win but the manner of the win made the French look like an awesome prospect, as that match was probably the best I'd seen a team play during all of 2013.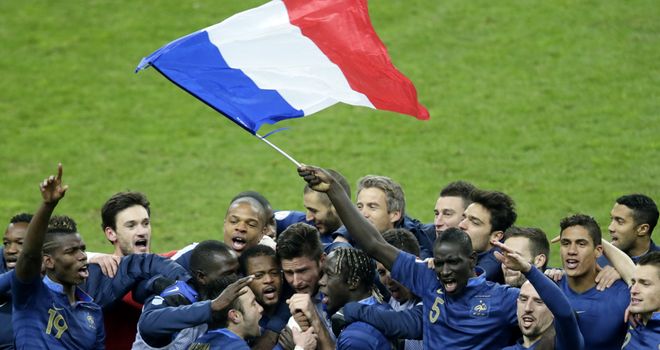 France after beating Ukraine 3-0 in a stunning comeback
The fact that France are showing team spirit is an excellent sign as in-fighting and squad discontent has marred the last two tournaments the team has played in, with the split between staff and players resulting in a strike during World Cup 2010. Teamwork will be important for the French to go far in the World Cup because there is no outright star to take them through games as Zidane did in 2006 but the team that did win the trophy in France in 1998 was one that relied very much on teamwork, to their successful end.
The French national team after winning the World Cup at home in 1998
The team is filled with good players and in Franck Ribery, one of the best in the world, though he is suffering a drop in form after surreal highs of 2013. Karim Benzema has also been in excellent goalscoring form for Real Madrid and France is probably hoping for more of the same while wearing blue.
Benzema and Ribery
France are firm favourites to qualify according to the odds-makers at 5/1 to be playing in the Round of 16 and 4/6 to win the entire group. At 22/1 to win it all, France are somewhat surprisingly rated very highly to go all the way but this might be one of the more optimistic bets to make. Though if they top the group their route into the quarter finals might be easy, but once there, it's very unlikely to be an easy match that deep into the World Cup.
Honduras - Los Catrachos followed their second appearance at a World Cup in 2010 by their third in 2014. Once again they'll have to play to Swiss and will hope to not be meeting them at the airport on the way home after the group stage, again.
The reality is that Honduras will have to do extremely well and hope for other teams to play badly to make it out of the group stage, since every win for them will probably be seen as a bonus. They have a mostly home-based squad with the foreign based players mostly participating in MLS and Scotland. The biggest name in the team is Wilson Palacios of Stoke City in the English Premier League, but he isn't the player to carry them to wins. Especially since he plays defensive midfield.
Wilson Palacios on the ball
The Hondurans are given 13/2 odds to qualify from the group and their odds to finish bottom of the group are 2/7 which gives a clear indication of how well they're expected to do. Their chances of winning the group, at 33/1 puts them on the same standing as other "happy to be here" nations, Iran and Australia .
Group F
Argentina - A team with frightening attacking talent comprising one of the best players (recently undisputed best) in the world, Lionel Messi, who despite a drop in form is still very much a game changer single-handedly. He has a lot to prove at the World Cup, since his performances in an Argentina shirt have been (usually justly) criticized. The man Diego Maradona deemed his successor will have a lot to do to drive the team like D10S did in 1986 . It is most likely an impossible hurdle for one man to drive a team as well as Maradona did, as it is impossible to speak about Argentine football without mentioning Diego. But Messi is not the sole elite attacker in this squad, which contains Manchester City star Sergio Aguero and Lavezzi of PSG.
Maradona in WC1986. Hard act to emulate
Aguero, Messi, Lavezzi
La Albicelestes have been knocked out at the quarter final stage in the last two World Cups, this time they will be hoping to progress further than that, as they always expect since the two-time winners are usually considered favourites and have to deal with tremendous pressure from the home fans. The last time Argentina topped the qualification group they were knocked out in the first round (in 2002) and it seems extremely unlikely history will repeat itself, especially looking at the group they're placed in.
Argentina with the trophy in 1978, the last time the tournament was held in South America (till now)
If the team tops the group, as they should, then they will probably have a difficult match against the group E runners-up but it will be one that they are expected to win. They are expected to win the group, with odds of 2/9 . Not qualifying is almost unforeseeable as they have the best odds in the entire tournament to do so at 1/25. As in the last tournament, the major flaw Argentina have is their defence being less than world class (except perhaps Zabaleta, but the centre is still soft) but taking into account that they're playing on home continent in familiar conditions (the squad has a mix of experience and youth) they are considered second favourites to win outright at 9/2 .
Some of Argentina's defenders: Zabaleta, Rojo, Fernandez, Garay, Romero
Bosnia and Herzegovina - Making it to the World Cup for the first time since the breakup of Yugoslavia, the Bosnians have an excellent chance to progress to the knockout round and even the quarter finals, given the group they are in.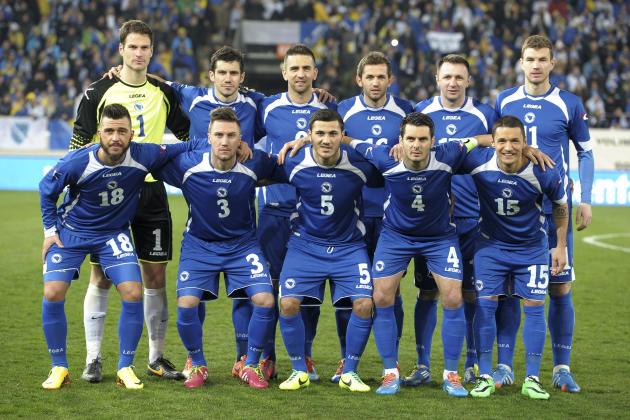 They are lacking in any kind of tournament experience, having never qualified for the European Championships either but have several players who play in the biggest leagues in European, so at least are familiar with high level football. Though, of course, the World Cup is a level above everything else. They have experienced players such as Misomivic (most capped for the Bosnian team) and a quality front line of Edin Dzeko of Manchester City and Vedad Ibisevic of Stuttgart, who will be hopeful that Miralem Pjanic continues his good club form and creates goalscoring opportunities for them.
Dzeko and Pjanic
Only England, Germany and The Netherlands scored more than the 30 goals Bosnia did while topping their group in qualifying, which they did on goal difference. With a +24 goal difference, they were among the top five teams in Europe on that measure as well (the three teams named before plus Ukraine) and the team does have a good balance of defence and attack as well as excellent team chemistry, though how well they will manage in unfamiliar conditions, both of tropical Brazil and international tournaments, remains to be seen.
Bosnian players celebrate qualifying for WC2014
At 5/6, to qualify from the group they are firm second favourites by the bookmakers. Given odds of 150/1 to win the tournament outright, coincidentally the same as other former Yugoslavian entity Croatia and the same as Japan and Mexico.
Iran - Iran tends to qualify every other World Cup or so, as they did this time (but not last time). Somewhat defied expectations to finish ahead of South Korea in their group and while the 49th ranked team in the world will probably not be expecting to top Group F, the teams they've been placed with might leave them tentatively hopeful of making it to the knockout stages for the first time.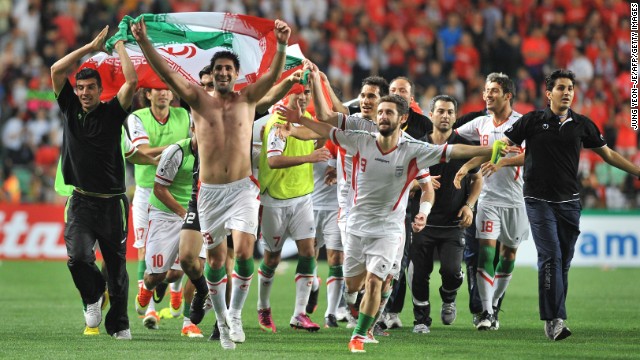 Iran celebrate qualifying for World Cup 2014
Coach Carlos Quieroz has assembled a strong team (at least, compared to the recent past) in part due to his willingness and enthusiasm for contacting players throughout the Iranian diaspora, a fact he has been widely commended for. That being said, the majority of players are home-based with a few scattered around several European leagues. The team's strength, at least based on qualifying, comes from their strength as a unit. They only conceded 2 goals during all 8 qualifying matches (though they only scored 8).
Given 5/1 odds to qualify from the group, they are the least expected to make it to the Round of 16, and while it is likely that they would indeed be returning early, these are probably odds than Iran may have expected. They are 4/7 to finish bottom of the group, but despite these seemingly solid odds for such an occurrence, that is no sure thing. At 1500/1 to win the entire thing, those odds seem, if anything, too good as there is very little chance of that happening.
Nigeria - After easily disposing of an Ethiopian team that surprised many to even be in the final playoffs, Nigeria have found themselves in an ideal group to make it to the first knockout stage for the first time since 1998. It would not be harsh to say the Super Eagles have underachieved at the World Cup stage given the considerable talent they possess. They have had an excellent 2013, winning the African Cup of Nations where the team really took their performances into high gear into the knockout phase and played some top quality football.
Nigeria after winning Cup of Nations 2013
During the last World Cup, Nigeria disappointingly fell at the first hurdle, managing only one point. That time, they were also placed in a group with Argentina and teams they would have fancied overcoming and they will be hoping the events of the past four years will not repeat. The only Nigerian player in South Africa who came out with a heightened reputation was goalkeeper Vincent Enyeama, who made several crucial saves, though sadly his efforts were in vain. Since that time he has established himself as the best shot-stopper in Africa and one of the best in the French Ligue 1. Nigeria has several players across Europe's bigger leagues, including Chelsea's John Obi Mikel , who despite finding playing time less regular in London was a star player during last year's Cup of Nations. Premier League attackers Peter Odemwingie, Victor Moses and Shola Ameobi are also included in the preliminary list for Nigeria.
Enyeama makes a save
While not expected to win the group, with odds of 9/1 for that happening, 11/8 for qualification does not seem to be a bad analysis at all. Whoever tops Group E are unlikely to be too scared at the prospect of facing Nigeria but they are more than capable of causing an early knockout of France or Switzerland. At 250/1 to win it all, the odds are surprisingly (and too high) on them.