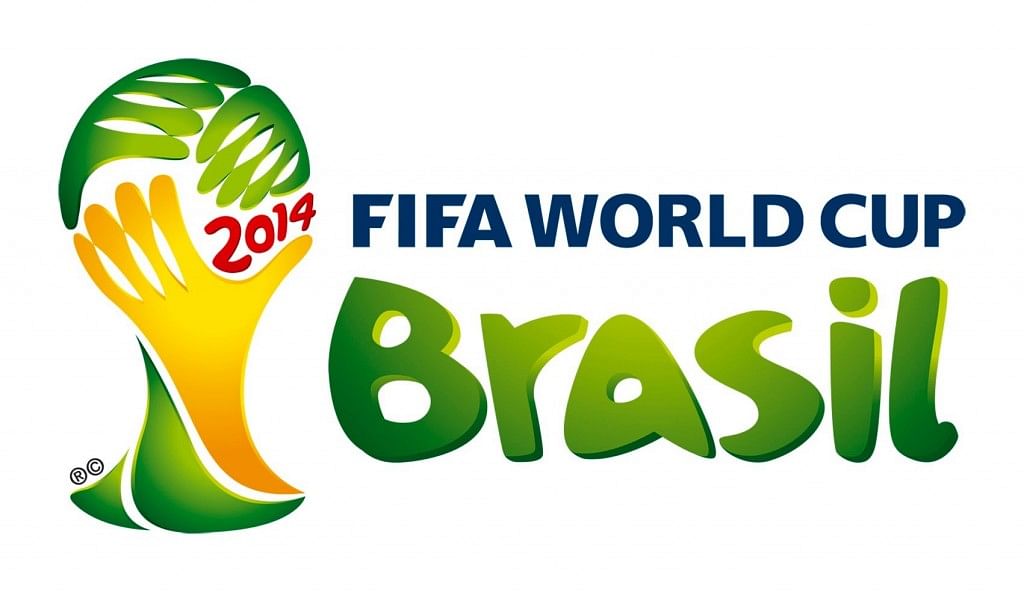 I like World Cup, quite a lot, and think it's the best of all the tournaments that exist in football and very possibly in all of sport (at least for any tournament focused on one sport since the Olympics is amazing because of the variety). So I'll be trying to figure out how likely each team is to get out of the group stages and how far they'll probably go if they do. All the odds are from
www.bet365.com
which is the site I use most for trend spotting in sport (it's like my sport-Bloomberg).
Group A
Brazil- Automatically qualified as hosts and at 1/20 to qualify have the second best odds of any team to make it out of the group phase behind Argentina (who have probably the softest group). It's with good reason Brazil have such low odds and they're considered favourites. Winning or even coming second in Group A doesn't mean an easy run as it probably would result in a round of sixteen clash against either defending champions Spain or the team that Spain beat in last tournament's final, The Netherlands (who knocked out Brazil last time). This Brazil team however easily swept away Spain at last year's Confederations Cup final in Rio and a young Dutch side probably doesn't hold much terrors either.
Members of the Brazil squad
At 11/4, Brazil also have the best odds to win of all 32 teams and barring an upset (which, is always possible in World Cup. So possible that upsets are, paradoxically, expected) they'll probably be in the final in July.
Croatia- Came a somewhat distant second in their qualification group, 9 points behind a strong Belgium side (who some are calling dark horses for the World Cup (I have my doubts about that)), Croatia qualified through the playoffs by beating Iceland (who were probably the weakest of the UEFA playoff entrants). They were, at the time of the draw, ranked 18th in the world and currently sit 20th. They also have the second best odds to get out of group A at 5/6.
Croatian players celebrate qualifying for the World Cup
That being said I doubt they will actually come out of the group since Mexico tends to play well through group stages of tournaments (though they did struggle to qualify). If they do come out of the group, they're at 150/1 to win outright and realistically they stand very little chance of getting past Spain or the Netherlands. But then again, no one gave them much chance in 1998 and they came third.
Mexico- Qualified through the playoffs against New Zealand. Everyone in the region was surprised, first by Mexico not topping the CONCACAF group and then by losing matches to the USA, Costa Rica and Honduras who finished above them to take the automatic qualification spots. The Mexican team did not play well at all through the qualifying phase also drawing five games but stormed through the playoff 9-3 on aggregate, though they did play a team almost 90 places below them on FIFA rankings.
Mexican players celebrate a goal against New Zealand
Odds of 6/5 to come out of the group seems fair based on qualification struggles but Mexico is usually strong in the group stages and probably should make it out of the group. They'll be avoiding Argentina in the Round of 16, if they make it that far, which might have provided a relief about being knocked out again by the Albicelestes , though looking at Group B, that relief probably is short lived. At 100/1 Mexico are given the best odds of a CONCACAF team of winning the tournament and they are a team that has repeatedly under-performed at the World Cup, never getting past the Round of 16 after their ban in 1990. But I doubt this will be the year Mexico makes a deep run in the tournament.
Cameroon- Pele predicted that an African team would win the World Cup before 2000. That prediction was just one of many representations of his inaccurate foresight but that run to the Quarter Final in 1990 did win them a lot of fans. They only lost one game during qualifying (to Libya during the second round) and qualified after beating Tunisia 4-1 on aggregate during the CAF Third Round playoff. Cameroon are looking for their first win or points since 2002 and would be hoping to make it out of the group stage for the first time since that famous 1990 run.
Roger Milla's famous dance celebration at World Cup 1990
They have their own talismanic veteran striker this time too, though 33 year old Samuel Eto'o is quite a few years younger than Roger Milla was in 1990, he'd probably be quite fine with emulating the old man (38 during the tournament in Italy) by scoring four goals.
Eto'o in action for Les Lions Indomitables
At 5/1 odds, the bookies don't seem to think they'll be coming out of the group stages and I also don't think they can manage to hold off both Mexico and Croatia to steal second, far less win the entire group. At 500/1 odds to win the entire thing, they're right down with the most outside shot teams and have the same odds as Australia. Don't expect to be seeing them in the Round of 16 and anything further than there will be greeted as a tremendous upset.
Group B
Spain - Defending champions and number one ranked team at the time of the draw as well as time of writing, Spain are one of the teams to watch for World Cup. Yet they're 13/2 to win it outright which puts them as fourth likeliest according to the bookies. Spain weren't expected to win the last World Cup but as two time defending European Champions as well as the last World Cup winners, the pressure of expectation is with them. Perennial underachievers Spain has recently come good by winning major trophies (albeit coupled with a weakening of most of the world's powerhouses, it's still impressive) but the cycle may be coming to an end.
Spain celebrating winning the World Cup in 2010
Major players for them such as Xavi, Iniesta and Pique (not a coincidence all from Barcelona) have lost form and the humbling in last year's Confederations Cup final do not seem like a strong foundation to be hopeful for a repeat trophy win. Spain are a squad blessed with bountiful attacking talent and should easily make it out of the group stages (odds are 5/1 that they do). However the defence remains a problem and even with the rise in form of Sergio Ramos this season, the hole left by the departure of Puyol in the defence (he hasn't retired, so maybe he might get an unexpected ticket to Brazil) might prove to be a fatal flaw.
These guys, catching up on reading
The Netherlands - The Dutch making the final at the last World Cup both galvanized and divided the country (I spent most of that summer in The Hague and by the time the final even the baker was giving out orange croissants along with ten minute discussions on why he disliked the Dutch current style of play). Not blessed with the tightest defence, they made up for it by being the roughest and rode that aggressive (at times, illegal) style of play to within four minutes of a penalty shootout.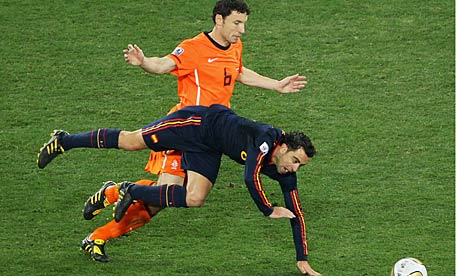 Van Bommel trips Xavi during the World Cup Final
Regularly described at the best nation to never win the World Cup ( a moniker also applied to Spain before 2010), the Dutch team stormed through qualifying racking up 28 points out of a possible 30 and scoring 34 goals to have the highest goal difference in Europe of +29. They experimented heavily and several players were given debuts, with heavy emphasis on youth. The loss of Kevin Strootman, one of the players who was deemed indispensable, will have a huge impact on their chances.
Strootman's injury affects Dutch chances greatly
Unlucky to be drawn in a group with Spain and potential banana skins Chile and Argentina, Holland are 8/15 to qualify from the group and should really be thinking about topping the group, as this current crop are less likely to be able to knock Brazil out of the World Cup in a repeat of four years ago. If they avoid Brazil in the first knockout round and maybe ride their luck, they could yet prove decent betting value since they're 28/1 to win the entire thing, same as Colombia (and a probably much more sensible bet).
Chile - The teams out of South America are always ones other teams rather avoid. This time even more so as they're playing on their own continent in familiar conditions. La Roja scored (with 29) more goals than anyone except Argentina to come third in the COMNEBOL qualification group, though their defensive lapses meant they shipped in 25 goals as well to only have a +4 goal difference. Any team that comes third in South America is strong (even without Brazil in the qualification round) and though Chile lack many players at top European clubs other than the Juventus pair of Vidal and Isla and Alexis Sanchez at Barcelona the squad can cause an upset.
If placed in a group other than this very tough one, the odds on Chile qualifying for the knockout stages would have been much better. As it stands Chile are 1/1 to make it to the Round of 16 and that seems a fair representation after taking into account familiarity (perhaps, anyway. South America is a big place) with the conditions. They probably have the ability to take a point or even three off of Holland and one of their few big names, Arturo Vidal, can claim to be the most complete footballer in the world currently.
Arturo Vidal for Chile
At 40/1 to win it all, Chile are sensibly placed by the bookies. Though if they make it out of a strong Group B, perhaps the other more fancied teams might rather avoid them. With a World Ranking at #13 currently, they won't be pushovers.
Australia- Most Aussies I speak to refer to football when speaking about Aussie rules football, a sport which is more popular than soccer Down Under. Football can lay claim to being at best fourth most popular sport in Australia with A-League attendances per match lower than Australian Rules, both codes of Rugby and cricket. Which makes their qualification for the World Cup even more impressive as this is the third tournament in a row they qualified for.
They'll be hoping to have a better start than last time, when they began by losing 4-0 to the Germans, which ultimately meant their draw against Ghana and win against Serbia couldn't prevent them from going out after the group stage on goal difference. This time around their goal difference might be even worse than the -3 in South Africa, considering who they're facing.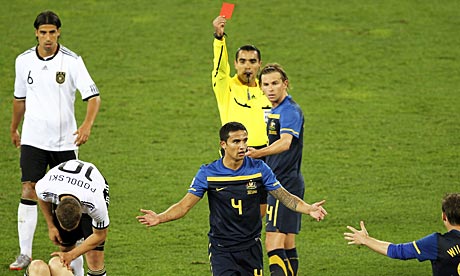 Tim Cahill being sent off against Germany
Australia do have a lot of players scattered across Europe including goalkeeping pair Mitchell Langerak and Brad Jones, backup keepers at the English (Liverpool) and German (Borussia Dortmund) second placed league teams, respectively. The main talent of the team is probably still expected to be former Everton player Tim Cahill, now at New York Red Bulls.
At 7/1 to leave the Group, the only team they are the team bookies consider most likely to need to buy tickets back home after three matches (their last match at Curitiba has one-stop flights to Sydney from the airport, conveniently ). They're 500/1 to win the whole thing but if they do somehow make it out of the group expect those odds to drop significantly. In an unrelated note, Australia have won three Cricket World Cups and two Rugby World Cups. Don't bet on them adding this one to the pile.